Leading-edge Interactive Security Solutions
New Dimensions in Technology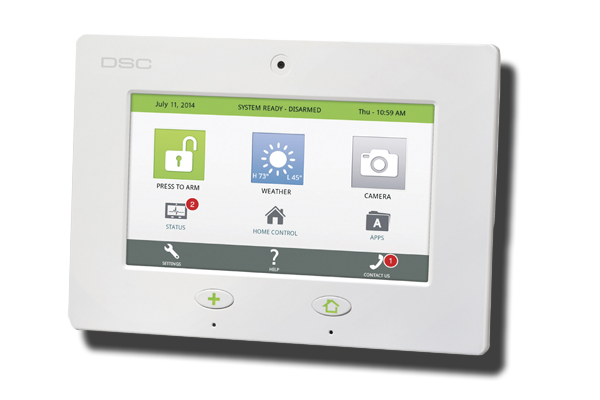 DSC Touch
DSC Touch is an innovative smart panel which provides customers with home management and interactive security capabilities in an all-in-one, intuitive and easy to use interface.
Uniquely based on Google's Android operating system and integrated with Alarm.com, DSC Touch employs WiFi, Bluetooth and Z-Wave technology for a completely wire-free install and 'all-in-one' wireless communications.
7 inch with 800 x 480 resolution
Built in apps such as Contact info and Photo Frame
Compatible with DSC 433Mhz One-way wireless products
Dual-path connectivity with integrated WiFi and Cellular
Z-Wave, Bluetooth, Image Sensor and Cellular radios built in to work with smart home automation
Integrated with Alarm.com to offer Interactive Services through iOS and Android apps
Built in Camera, takes photos on Disarm and Alarm events
Built-in siren
Built-in two-way voice over Cellular
Software updates over WiFi and manually with a SD card
Supports 59 Wireless zones and 242 User codes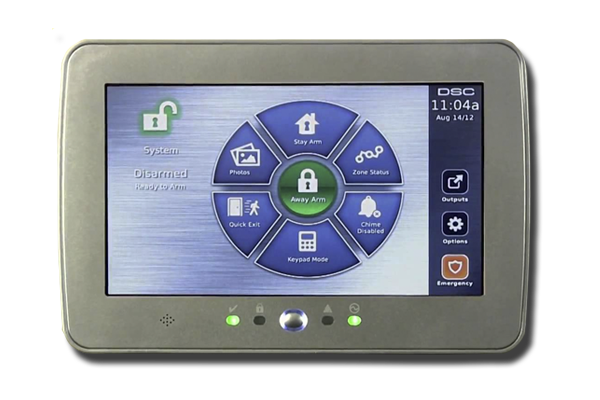 PowerSeries Neo TouchScreen
Power unleashed through an easy-to-use TouchScreen The PowerSeries Neo HS2TCHP TouchScreen presents yet another option as part of a broad range of PowerSeries Neo keypads for a primary interface
to this revolutionary hybrid system. In keeping with PowerSeries Neo's wide spectrum solutions, the HS2TCHP TouchScreen is designed with user-friendliness in mind. Packaged in a clean, low-profile case in either white or black to easily blend into any décor.
Easy For Users The PowerSeries Neo Touchscreen keypad has been designed with the user at 'top of mind'. Large, clearly recognizable onscreen buttons and intuitive menu-driven screens facilitate ease of medical use and programming. For example, to access the Fire, Medical, Panic keys, users just press the EMERGENCY button on the sidebar. LED status lights on the bottom of the frame provide a quick visual check on the security system.
Responsive, high-resolution 7" (177.8 mm) full color touchscreen
Intuitive menu-driven interface for the user Configurable home screen
Built-in and easy-to-update digital picture frame using integrated SD card slot
Simplified programing of labels using QWERTY keypad
Clean, low-profile case in either white (HS2TCHP) or black (HS2TCHPBLK) blends into any décor
Quick-view LED status indicators (Ready, Armed, Trouble and AC Power)
Interactive Menu ready
I/O terminal
SD card GUI Local firmware update using SD card
Prox support (using MPT prox tags)
Multiple language support
Available in white or black
Approval Listings: FCC/IC, UL/ULC, SIA CP-01, CSFM
For more information and news, please visit the DSC website.